Bio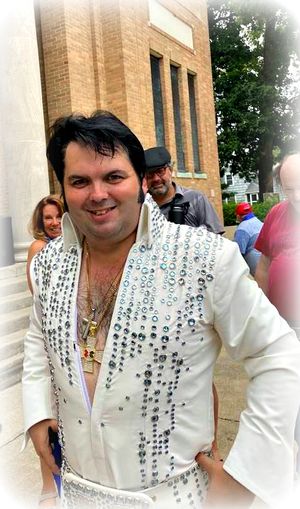 Tim Dudley became an Elvis fan when he was about 3 years old. It all started when his Mom rented the "Elvis - Aloha From Hawaii" video. Before you knew it, he asked his grandmother to pin a towel on his shirt, and just after one day of that costume (plus the fact he ripped holes in his t-shirts) his grandmother decided to make him his first Elvis suit.  Tim from time to time as a child would enter local school talent contest as Elvis, and would place. Like when he lived in Austell, GA, Girard, PA. But it wasn't until after time got out of High School in Erath, LA. One night from help from a friend (DJ was his name) pushed him to sing in front of audience at local club that had Karaoke that night.
     Elvis and his music have helped Tim through the good and bad times in his life. He is the only singer, in Tim's mind, who poured his heart and soul into every song he performed.
     Elvis never forgot his fans who made him the outstanding performer who lives in our hearts and minds today. He always remembered to "thank" them for their love and support. Elvis said in 1971, "Every dream I have ever dreamed has come true 100 times, so I will keep singing a song." Now, Tim's dream has come true, and that is to pay tribute to the BEST singer of all time, Elvis Presley. Tim hopes to keep singing the songs of Elvis as long as he is able, even if it is a hundred years from now.
     Tim does this totally out of love to Elvis and to keep his memories alive to people younger than Tim. He's met a lot of great Elvis fans and Elvis' friends in all the years he has performed his Tribute to Elvis. And has wow'ed Elvis fans all over the world!

    The biggest reward was on November 3, 2011. During some down time during November & December months.  Tim gave his life to Jesus Christ, and not only does he love performing his tribute to Elvis.  But also loves to tell people his testimony and how he came to the Lord. 

*Photo above was taken after Tim's performance Summer 2021 during autograph session, fans waiting in line to take a picture with Tim and his autograph.*